CAMPUS NEWS * STAR STUDENTS * ALUMNI UPDATES * DISTINGUISHED ALUMNI * REUNIONS
Phone: (210) 228-1200 Address: 400 Eagleland Drive, San Antonio, TX 78210 Grades served: 9-12 grades Brackenridge High School Web Site
Academic programs: Media and Film Institute, Early College High School
Alumni Pages: Brackenridge High School Alumni Association web site, Brackenridge High School Alumni Association Facebook Page
JOIN SAISD Nation TODAY to connect with other alumni, sign up to volunteer or contribute to student and teacher success at a giving level.
Campus News 
The 2020 season will be the last for Willie Hall, who has coached at the San Antonio ISD school 37 years, the last 25 as head coach. Learn more about the legendary coach
in this Express News article.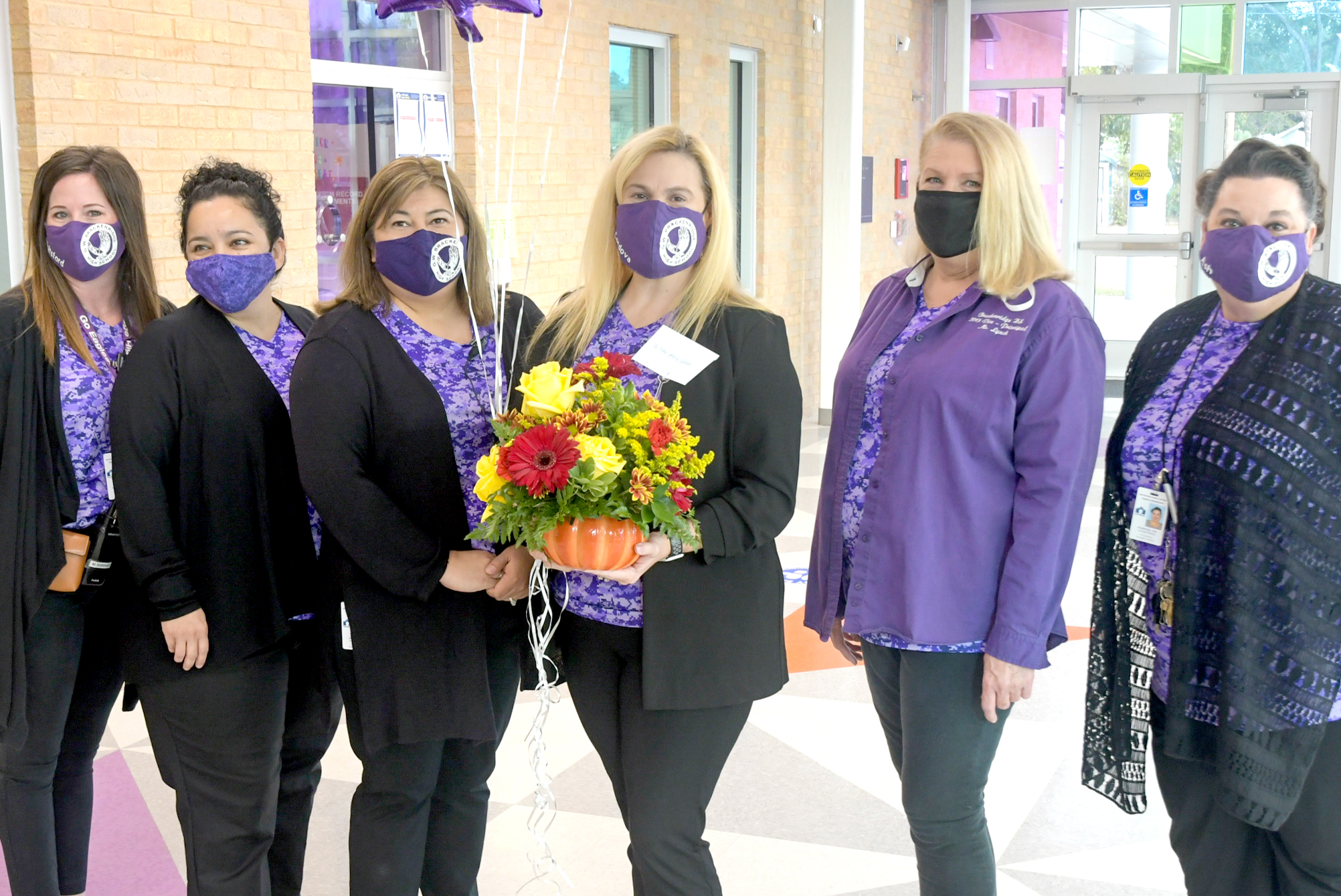 Brackenridge High School Principal Yesenia Cordova is the Education Service Center, Region 20 World Languages Administrator of the Year. The announcement came during a surprise, social-distanced ceremony on Oct. 20 in the Brackenridge lobby. Learn more HERE.
The Brackenridge Quarantine Alumni Facebook group which banded together to raise nearly $8,500 to purchase t-shirts, bags and H-E-B gift cards for every Brackenridge senior. Brackenridge High School Class of 2005 alumnus & SAISDFoundation Board Member, Amanda Keammerer, pictured below. was part of an alumni-led initiative to celebrate this year's graduates. 
Star Students 
Natalie Castillo is the valedictorian of her class at Brackenridge High School, but she is looking forward to attending the University of Texas at Austin in the fall to pursue a degree in management information systems. Learn more about Natalie in this KSAT profile!
Alumni Updates
Submit your own alumni updates here!
Distinguished Alumni
James Robert Cade
(Co-inventor of the sports drink, Gatorade)
Class of 1945

Warren McVea
(First African American football player at University of Houston and NFL star for Kansas City Chiefs)
Class of 1964

John Quiñones
(ABC news correspondent, 20/20 anchor and host of What Would You Do?)
Class of 1970
Reunions
1937 Class
Joe Nuessle of the Brackenridge HS class of 1937 seeks information on the school's Mid-30's Club. He can be reached by phone, 512-835-2971. Or e-mail [email protected]
1948 Class
Ruth Aldana of the Brackenridge HS class of 1948 seeks reunion and class ring information. She can be reached in care of her son, Dr Michael Pellegrino, at [email protected]
1959 Class
Bernard Morris is seeking reunion information at [email protected]
Daniel Giler Martinez of the Brackenridge HS class of 1959 is seeking reunion information. He can be contacted at 619-532-7698 or via e-mail, [email protected]

1974 Class
Edna Robledo of the Brackenridge HS class of 1974 seeks reunion information. She can be reached at [email protected]. 
 
Planning a reunion or have news to share for other Brack alumni? Email [email protected] with your update!